Dashboard update: Current and historical soil data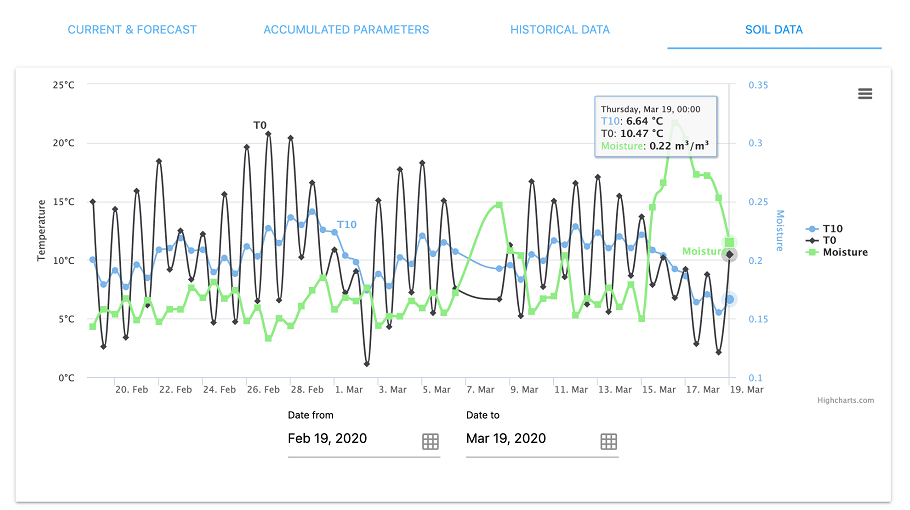 Posted on 24 Sep 2019
The OpenWeather team is pleased to announce that we continue to expand the functionality of our Dashboard.
This time, we would like to offer you the new service - Current and Historical soil data.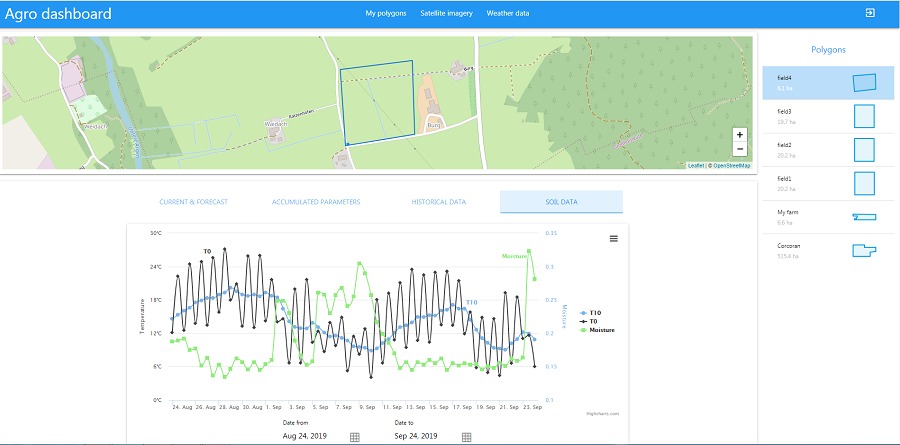 As a part of our service, we provide forecasted, current and historical soil data on soil temperature (in Celsius) on the surface (T0), at a depth of 10 cm (T10) and soil moisture m3/ m3for your polygon and a time interval of your interest. Data is calculated twice a day - at 00 and 12 hours UTC.
After creating a polygon and selecting a time interval, the data will be displayed as a graph in Dashboard. You can save the obtained data in the form of graphs in PNG and JPEG image, PDF document, SVG vector image or in the form of tables with digital values in CSV and XLS formats, and also print these directly from the Dashboard page. To do this, just click on the icon with three stripes in the upper right corner of the graph.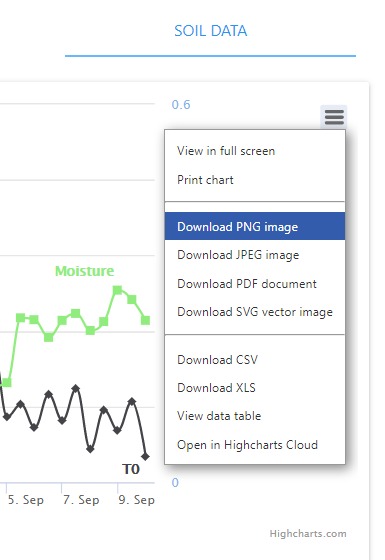 We would like to remind that,within Dashboard, you can get the following set of free and paid services: satellite images, current and historical data for NDVI / EVI vegetation indices, current weather data and forecasts, historical weather data as well as accumulated parameters: accumulated precipitation and temperature. All data is calculated using the Agro API. Details about the APIs that we offer for developers of agricultural services and applications can be found here.
To get access to these services, you need to subscribe first. For your convenience, we offer a flexible subscription system. For users who are only interested in weather data, we offer the Small Weather subscription. In the Small Kit (depth of historical data - 1 year) subscription, we include all weather data and satellite data. If none of the proposed tariffs suits you, then we suggest considering a personal Corporate tariff for your specific requests.
If you already have a paid subscription in our Agro API system, when you switch to Dashboard, you will already have access to the functionality corresponding to your active subscription.
We will be happy to answer all your questions, please contact us at info@openweathermap.org.
Follow our updates!