Loading locations as a CSV file via refined Marketplace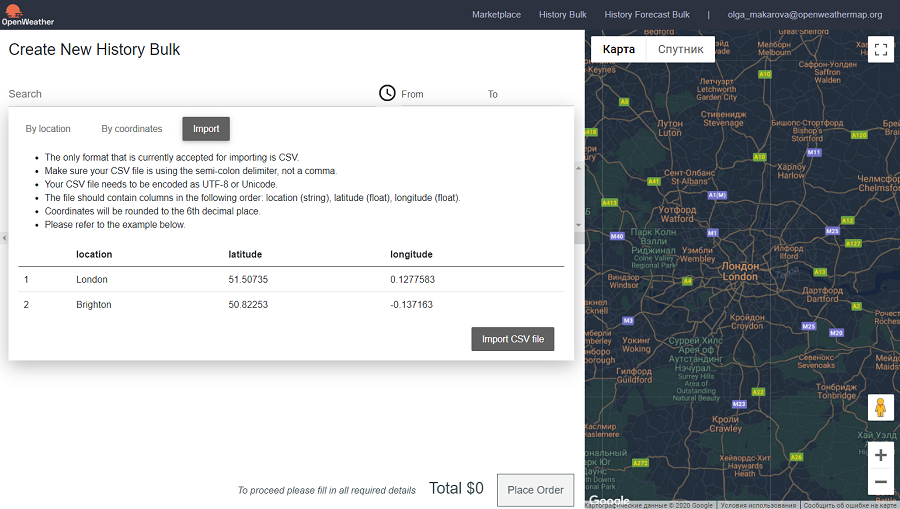 Posted on 24 Apr 2020
Getting historical weather data for a large number of locations at once
We at OpenWeatherMap strive to improve our historical products, making it simpler to get them and work with them. And with that in mind, we're excited to share some news.
In the new version of Marketplace, we have added the option of uploading your list of locations as a CSV file, so that you can get historical weather data for all of them at once, in one request.
This will be useful for clients who are interested in getting historical weather data for a large number of locations.
This option is available for the History Bulk and History Forecast Bulk products. It also recognises an uploaded CSV file and helps to identify possible mistakes and gaps in the file.
To set up your CSV file correctly, please use the following rules:
Make sure the file uses a semicolon delimiter, not a comma.

It needs to be encoded as UTF-8 or Unicode.

It should contain columns in the following order: location (string), latitude (float), longitude (float).
Please note that coordinates will be rounded to the sixth decimal place.
Here is an example of a CSV file with coordinates: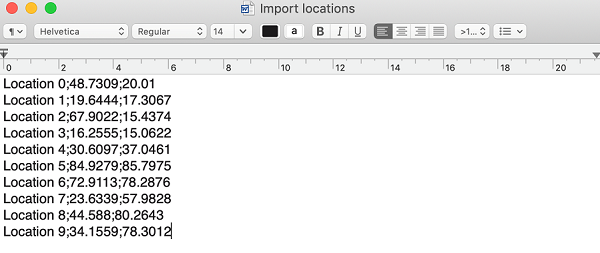 As well as this article, you can read our documentation to learn about the steps to follow (some required, some optional) when creating orders.
A confirmation email with a download link will be sent to you soon after you've submitted your payment.
Also, you can access all your orders on the 'My orders' page if you have created an OpenWeather account.
We will be happy to answer all your questions – please contact us at info@openweathermap.org.