Marketplace: online shop of historical weather data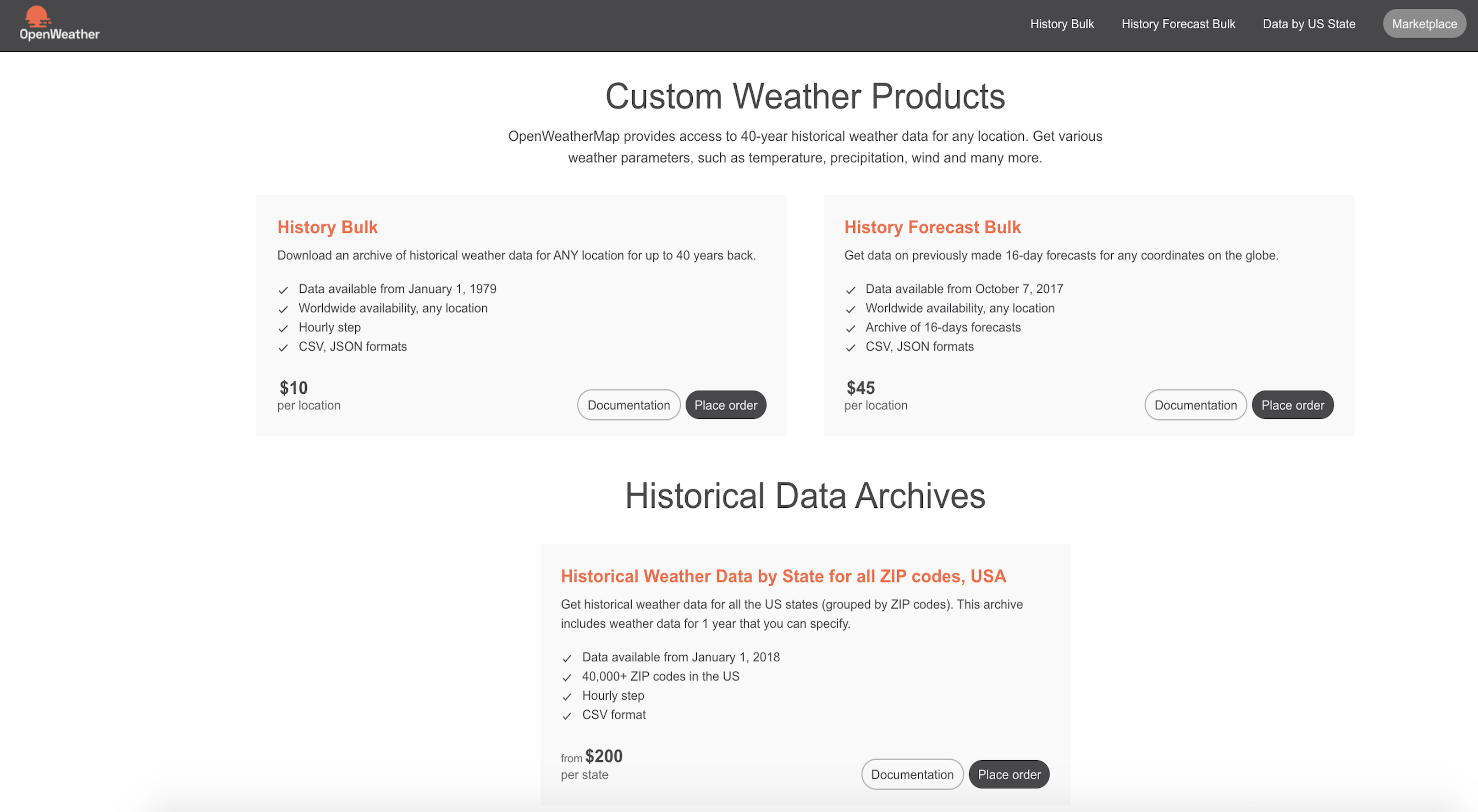 Posted on 12 Jun 2020
Historical weather data is used in various areas of the economy and industry. It allows you to assess the impact of weather on business, and is used to analyse and reduce potential risks, in machine learning, in the IoT system and much more.
OpenWeather uses its own technology that makes it much easier to get historical weather data. We have called it the Time Machine. This is an algorithm that now allows us to provide up to 40 years of historical data for any coordinates.
This technology allowed us to create our Historical Weather Data collection, which includes a set of products for obtaining historical weather data in convenient ways via the OpenWeather Marketplace.
The Marketplace allows you to download weather data for essential weather parameters and any location without having to register. It contains the following products:
This product allows you to download an archive of historical weather data for ANY location for up to 40 years back (from 1 January 1979 till now). The weather data archive includes 15 weather parameters, such as temperature, precipitation and wind. Data is provided with an hourly step.
This can be provided in two formats: CSV and JSON.
The price is highly competitive – only $10 per location.
Read the History Bulk documentation here.
History Forecast Bulk provides an archive of previous forecasts starting from 7 October 2017. By using this service, you can receive data on previously made 16-day forecasts for any coordinates on the globe.
This can be provided in the CSV and JSON formats.
The forecast is updated four times per day. Each time an update happens, we generate new values for all of the weather parameters in the forecast.
The price is $45 per location.
Read the History Forecast Bulk documentation here.
Historical Weather Data by State allows you to download archives of historical weather data for all ZIP codes in the USA. The ZIP codes in the weather data archives are all grouped by state.
Data is available for 2018 and 2019.
The data is provided with an hourly step, in CSV format.
Prices vary from one state to another, as each state has a different number of ZIP codes. You can find the price for each state here.
Read the Historical Weather Data by State documentation here.
How to purchase
OpenWeather's Marketplace allows you to get weather data quickly and without having to register. The flexible, convenient interface helps you to customise your order by choosing the required weather parameters, measurement units and file format (CSV or JSON).
By the way, there are several options for specifying the location in History Bulk and History Forecast Bulk: you can click on the map, or enter the coordinates or town/city name. For your convenience, we have developed one more option – uploading locations via a CSV file. This might be helpful if you are interested in getting weather data for a large number of locations. You can also contact us directly at info@openweathermap.org to order data for an extensive number of locations. Our experts will process your list of locations and export the requested data for you.
You can set the time period and any locations for the downloaded weather archive data. Weather parameters, measurement units and the format of the downloadable output file can be also configurable per your preferences.
Click 'Place Order' on the 'Order form' page, and review your order details.
Go to the payment
After placing your order, click on the 'Checkout' button. You will be then redirected to PayPal, where you can complete the payment either using your PayPal account or checking out as a guest without signing up for an account.
You will receive a confirmation email with a download link shortly after the payment has been processed.
You can access all your orders in the 'My orders' list.
As usual, you are more than welcome to leave your feedback at info@openweathermap.org. To learn more about other products from our historical range, please refer to our Pricing page.