Travel countdown, weather, tours and inspiration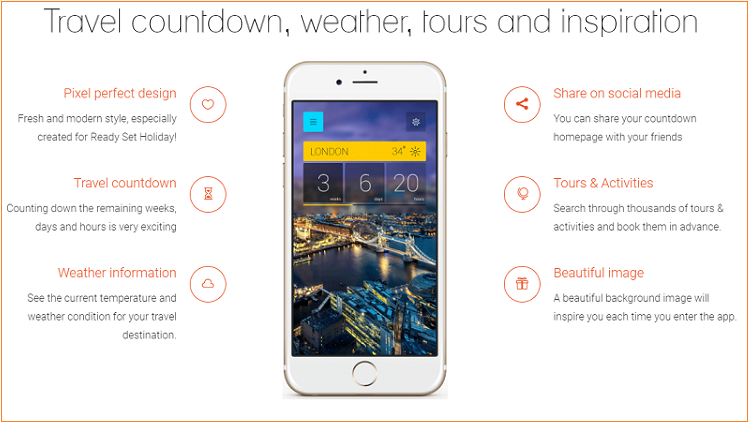 Posted on 30 Aug 2017
With Ready Set Holiday application and weather data by OpenWeatherMap you can perfectly plan your weekend holidays.
Everyone travels not like others.
One is suddenly struck by an idea, he grabs a backpack, some clothes, gadgets, buys a ticket not of great importance where or gets a bike or a car and sets out for adventures despite a burning sun or heavy rain outside.
However the most people prefer to plan their trips thoroughly in advance. And often this planning brings as much pleasure as the trip itself.
One wishes that everything in a trip is greatly planned and goes smoothly. Actually it's a nice occupation to learn an area by map and photos, to check forecasts for all the future locations, to choose and book tours scrupulously considering the experience of former travelers. And weather here is a quite crucial factor. A trip which is planned without regard to forecast has a risk not to be ruined completely, but it can frustrate you. Choosing holiday time with attention to forecasts from OpenWeatherMap, you avoid disappointment. Application Ready Set Holiday turns trip preparation to an easy and interesting thing. And our forecasts and current weather let get maximum pleasure from a trip and prevent a bad cold and overheating.