From now on, History Forecast Bulks can be purchased directly on the website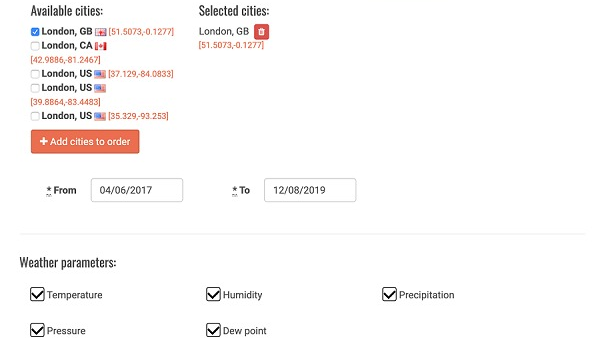 Posted on 12 Dec 2019
Another nice update on our historical data service!
Earlier this year, we have launched a new History Forecast Bulk product, which you could only get by contacting our support team directly.
For your convenience, we have significantly simplified the procedure for obtaining this data. Now, to receive historical forecasts, you do not necessarily have to write to us - you can purchase these files directly through your personal account.
In order to buy a historical forecast, just follow these steps:
1. Log in or create your personal account
2. Go to the "Store" tab and click on the "+ New History Forecast Bulk" button
3. Fill out the order form by choosing the locations you are interested in and the time period. You can also select the weather parameters, their units and a convenient file format (CSV/JSON) in order to receive the data.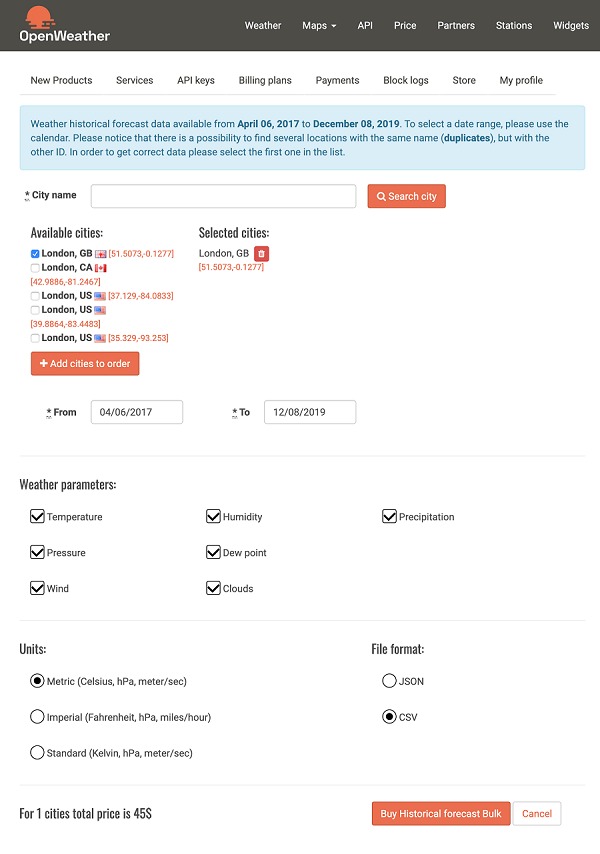 For more information about the product, its parameters and data structure, please see the documentation. On the Pricing page, you will find the cost of data for one location.
After the payment has been made, you will receive a letter to your email with a link to download your order.
All your previous orders can be accessed from "Store" tab in "My orders" list.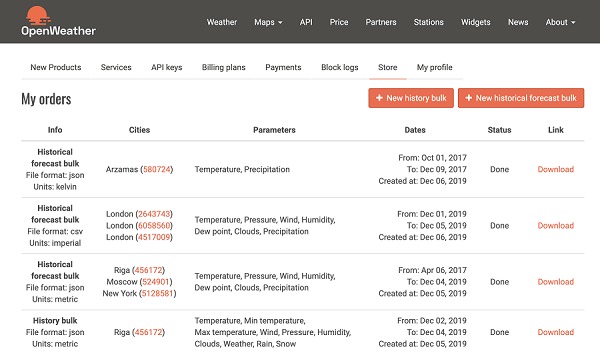 Please note that your purchases of History bulk will also be displayed in the same list. To create a new purchase, simply click on the "New history bulk" button and fill out the corresponding form.
When ordering data for an extensive number of locations, we recommend to contact us directly at info@openweathermap.org. Our experts will process your list of locations and export the requested data for you.