Weather Historical Bulk is launched!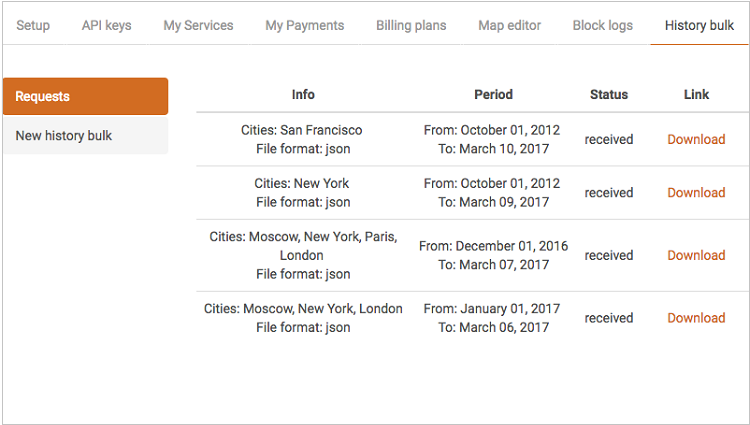 Posted on 10 Mar 2017
We are happy to introduce you our new service which provides weather historical data for more than 30,000 cities for the last 5 years.
Now you can simply choose a city (or several cities) and download an archive, which contains bulk file with the weather history up to 5 years - any day, week or even several years. Pricing is simple and easy - just $10 for one city, no matter how much data will you receive http://openweathermap.org/price. Just sign in and place an order on your personal page https://home.openweathermap.org/history_bulks/new. Our traditional History API stays the same.
Could you please pay your attention that our historical weather data is available not only for developers! Everyone can get this data in a form convenient for reading and immediate use. For that while downloading a file choose csv format and then you can open the file in Excel or any similar program and arrange it to your desire.
It facilitates instant representing of received weather information without any additional processing.
Thus it is possible to get weather information for 30,000 cities for the last 5 years. You can quickly download data for any period and for several locations at a time.
OpenWeatherMap cares about you!
We constantly try to make usage of our data for all our customers as convenient as possible!