OpenWeather 2019: results of the year. Historical weather data, Weather API, Agro Dashboard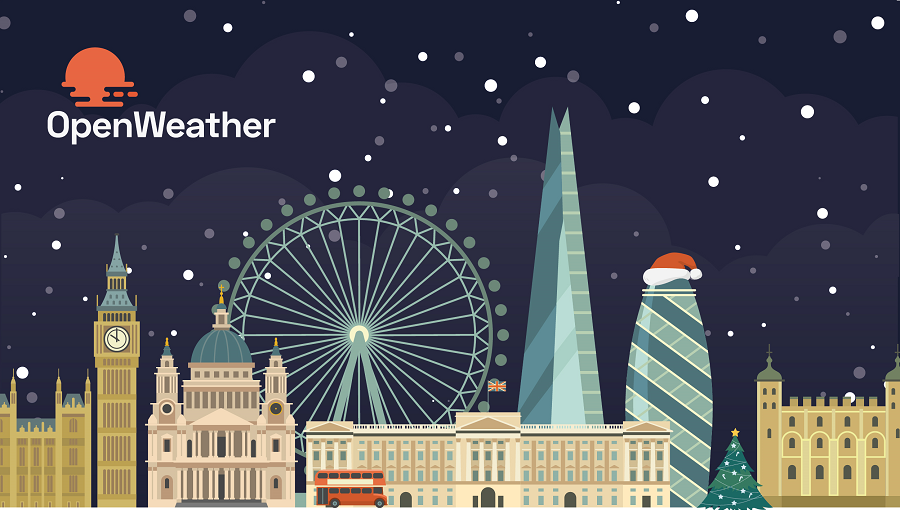 Posted on 02 Jan 2020
So, the new 2020 is nearly upon us and it is time to sum up what we have done in 2019.
A lot has happened in OpenWeather and a lot has changed.
We have launched new products, updated existing services and made working with them even more convenient.
Lets see what OpenWeather team has been up to in 2019!
Historical weather data
This year, the OpenWeather team has made a leapfrog development in providing historical data.
Time Machine: 40 years of historical data for any coordinates
We are glad to present a new technology that greatly enhances our historical weather data. We have called it Time Machine. Time Machine is an algorithm that now allows us to provide up to 40 years of historical data for any coordinates. Hourly historical data are provided in a form of CSV or JSON files. In order to request this information for your own locations, please get in touch with us at info@openweathermap.org.


History Bulk update
We have made the export of historical data a bit more flexible and convenient for you. Now, the History Bulk purchase form also has set of selectable weather parameters, formats and units that you can choose in accordance with your own data needs. The available depth of historical archive has also been increased from 7 to 19 years. Data are now available from January 01, 2000 up to the current date. This only applies to History Bulks purchased from the website.


History Forecast Bulk
History Forecast Bulk allows to receive an archive of previous 16-day forecasts for any location. Data are available starting from April 6, 2017. You will find the following parameters in our forecasts: temperature, humidity, atmospheric pressure (both on the ground level and on the sea level), wind speed and direction, cloudliness, rain and snow volume. A 16-day forecast is a set of values for weather parameters for each of the 16 days ahead. The forecast gets updated 4 times per day. Each time an update happens, we generate new values for all weather parameters in the forecast.


Statistical Weather Data API
Statistical Weather Data is an API that can provide its users with aggregated statistical weather data for cities. This API allows you to get statistical data by main weather parameters for a specific date or month of the year, or for the entire year.
For your convenience, we have combined all weather products into Historical weather data collection.
For more ore articles about this service, please see WEATHER section of our Blog.
Weather API
More articles about this product read in WEATHER section in our Blog.
Agro API news: Agricultural Dashboard
This year we have also developed a completely new version of Agricultural Dashboard.
The main purpose of the significantly advanced version of Dashboard is to visually demonstrate all data that we provide via Agricultural API such as satellite imagery, NDVI / EVI vegetation indices and its values for the previous periods, current weather, forecast and historical weather data, accumulated precipitation and temperature, soil data and others.
Satellite imagery for polygon
For your polygons, you can request all satellite imagery that is available in our archive. These can be viewed in true/false colour, NDVI and EVI. The values of NDVI, EVI that are calculated by using satellite images for the particular day (such as minimum, maximum, average and other statistical values).
You can also get historical data on NDVI in the form of Historical chart.

Go to the Satellite imagery section to get satellite imagery for your polygons.


Weather data for polygon
- Current data & forecasts: you can get the following Weather data for your fields: Current weather data, Daily forecast for 7 days and Hourly forecast for 4 days.
- Accumulated parameters: accumulated precipitation and temperature for the polygon for the time interval you are interested in, calculated using our APIs for Accumulated temperature and Accumulated precipitation.
- Historical weather data of temperature and precipitation for your polygon for the time interval you are interested in.
- Soil data: as a part of our service, we provide forecasted, current and historical soil data of soil temperature (in Celsius) on the surface (T0), at a depth of 10 cm (T10) and soil moisture m3/ m3 for your polygon and a time interval of your interest. Data is calculated twice a day - at 00 and 12 hours UTC.

Please visit Weather data section to get weather data for your polygons.
More articles about this product read in AGRO section in our Blog.
To our customers and partners
We are grateful to everyone who has worked with us this year. Thanks to your support and active feedback, we were able to create so many new and useful things.
We have a ton of plans for the coming year. Stay with us to witness lots of exciting updates in the future!
As usual, we will be waiting for your comments, suggestions and questions at info@openweathermap.org.