One of the most popular cases for weather API's usage is the weather widgets.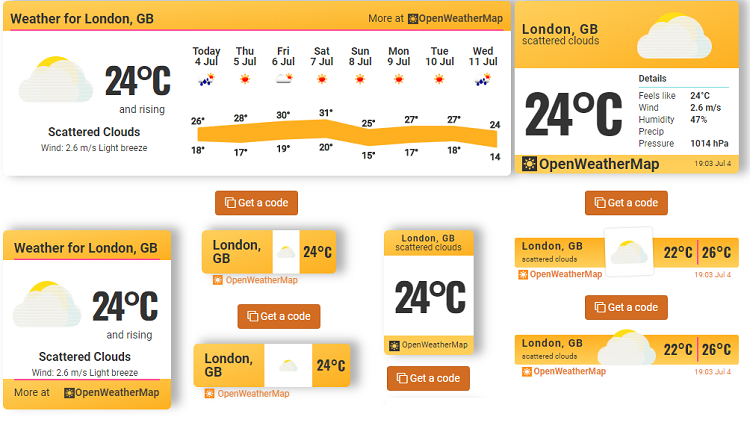 Posted on 21 Dec 2016
OpenWeatherMap provides a bunch of weather API's for developers, who create this kind of apps and many others. But our site is quite visited by users who'd like to check the weather for the certain city - so we created a various stuff of widgets you can copy and paste into your web page or blog as a ready-to-use JS code snippets no programming skills required.
Check it at http://openweathermap.org/widgets-constructor - all you need is tree simple steps:
get API key at your OpenWeatherMap home page. Important! Remember when using a client widget your API key can be seen by other users. Also you can create as many API keys as needed to differentiate all kind of request transactions.

search by city name to update the widgets according to desirable city location



choose one of the shown below widgets (at the moment 3 color patterns and several modifications of widgets for each pattern are available) and press "Get a code" button to copy and paste the code - widget will be generated in a corresponding "openweathermap-widget" div container




And if you are a developer who creates weather widgets based on OpenWeatherMap API and like to share your work with the audience - just let us know, we'll be happy to extend the widgets gallery, maintaining your copyright and author's information.